Promised I would keep throwing out more info on this great festival.
WORLDWIDE FESTIVAL
- CLUB INVASION (Satellite Sessions)
Friday 8 May - Various Club Venues: Club Rules Apply
Besides live music, this year will see the first ever Worldwide Festival Club Invasion. For the very first time, Singapore's club and music venues are allunified by a common love for a broad variety of Worldwide sounds. Different institutions of the Singapore club faculty come together for the very first time in support of Worldwide Festival. Serving a good example by unifying different individual nightlife operating venues, the Worldwide Festival rings home the message that music can unify for a common cause. Hosting a specific international sound, each club will provide with the right musical environment and overall vibe to truly appreciate the musical offering on display.
From 11pm onwards, witness the heavyweight Austrian Dub sound blaze up the dance floor at Home Club as Stereotyp and Lexie Lee go head to head in a bass heavy excursion.
Over at Velvet Underground, things take on a Euro tip with the champion of disco house re-edits, Norway's one and only, Todd Terje and French beat merchant Garfld. Meanwhile at Overeasy a brand new French – Belgium connection is forged with broken beats and house music from the likes of Simbad & Lefto. At Zirca, Beni G of Jack Beats fame drops the pressure with his ghetto bass tinged electro while Toshio Matssura will be gracing the decks at Mimolette for a Jazzy/House excursion. Expect a full cycle assault of heavyweight electro anthems and floor filling delights for the young at heart.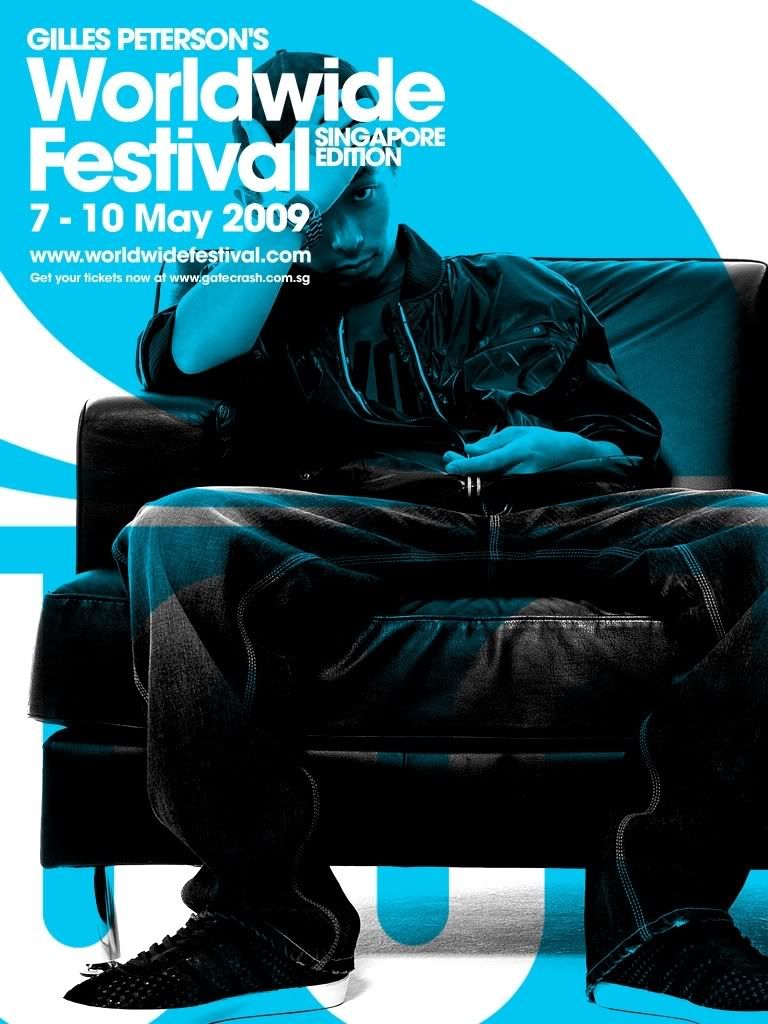 WORLDWIDE FESTIVAL CLUB INVASION
DATE: 8 MAY 2009, FRIDAY
TIME: 10H30 - 4H00
Home Club @ 20 Upper Circular Road, B1-01/06 The Riverwalk
STEREOTYP (AT)
CEE from AL HACA (AT)
LEXIE LEE (USA)
Tickets: $25 (incl. 1 drink)
Velvet Underground, Zouk @ 17 Jiak Kim Street
TODD TERJE (NO)
GARFLD (FR)
Tickets: $28 female / $35 male (incl. 2 drinks)
OverEasy @ 01-06, 1 Fullerton Road
SIMBAD (FR)
LEFTO (BE)
Tickets: Free Entry
Mimolette @ 55 Fairway Drive, Singapore 286846
TOSHIO MATSUURA (JP)
Tickets: Guest List / RSVP trybe@mimolette.com.sg
Zirca @ The Cannery, Clark Quay, 3C River Valley Road
Featuring
JACK BEATS (UK)
Tickets: $28 female / $35 male (incl. 2 drinks)
TICKETS AVAILABLE AT:
gatecrash.com.sg