A lot of the readers here do head to many of the events that grace our island month in and month out but if you haven't had the chance to head over to
Home Club
for Syndicate I'd suggest you give a it a try. A distinctly different vibe and feel from most of the nights on the island, you're able to tap into a raw and unhinged environment. There's a heaviness in the air (it's not sweat) that makes the whole setting intense yet welcoming, everyone's there for the right reasons.
We hope you join the party this coming September 4th!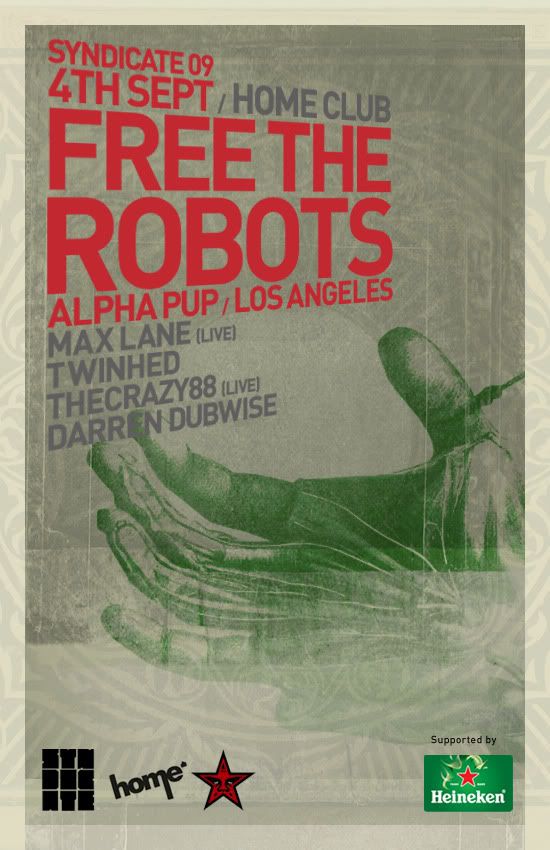 Press Release from Syndicate:
Come Saturday 4 September 2010, Syndicate plays host to genre-defying beat-maker, Free the Robots. Much like his Los Angeles contemporaries such as Flying Lotus, Nosaj Thing & The Glitch Mob, Free the Robots has been reaching out to a worldwide audience due to the constant development of his sound and live shows.
An artist who knows no boundaries, Free the Robots pulls together heavy doses of traditional jazz, psychedelic rock, electronica and hip hop with progressive melodies and devastating drums into a rich pot of sound. His techniques create harmony between genres with the blending of obscure samples within analog and digital compositions.
His debut full length release, "Ctrl Alt Del", has been critically acclaimed and is a must-have for hip hop heads, dubstep lovers and fans of electronica.
Free the Robots live performances are known for creating a balance between the sounds of the past, present & future with the use of samples, controllers and other live instruments. Expect a set of button-pushing & knob-twiddling madness filled with surprising samples for that true boom-bap experience and the irresistible nods.
Syndicate will also feature its first hip hop act of the year with TheCrazy88. Fresh from dropping their self-titled EP, this emceeing duo seems set to lay the standard for the future of hip hop in Singapore. They are also known for their amped-up and dynamic performances.
Keeping up the beats for the night will be guest DJ Twinhed and Syndicate residents, Max Lane & Darren Dubwise with Rafi Dean on the visuals.
Returning as a partner for this special Syndicate installment is the most iconic name in street culture, Obey. Known for their camaraderie with the Low End Theory crew in Los Angeles in which Free the Robots is part of, Obey sustains its radical ideas by supporting Syndicate's revolutionary movement here in Singapore.