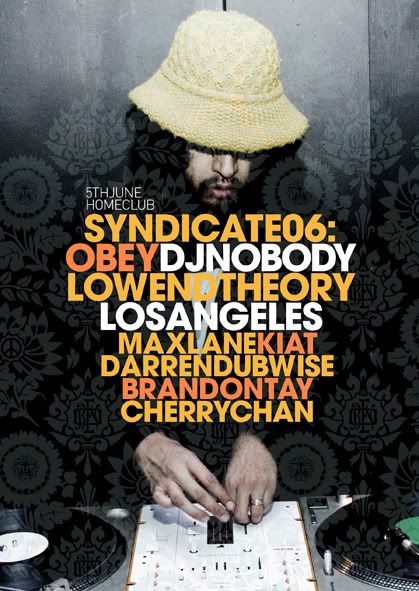 singapore's revolutionary transmitter of beats & visual culture is playing host to its los angeles counterpart with low end theory resident, dj nobody.
come saturday 5 june 2010, syndicate celebrates its half a year in existence with a resident of the world's most forward thinking night, low end theory. dj nobody is one of the main beat purveyors on the los angeles scene alongside flying lotus, daedelus & nosaj thing. the eccentric dj/producer helmed the now infamous low end theory wednesdays back in la together with daddy kev, gaslamp killer & d-styles.
a personality who sits admirably on the fence between the global electronic & indie-rock community, his musical involvements span various collaborations which include names such as prefuse 73 and members of the mars volta. nobody's dj sets are known for their fresh blend of hip hop, dubstep and electronica. and as the low end theory flagship suggests, expect some serious bass with off-kilter rhythmic patters plus the staple rock motifs & psychedelic sampledelia.
joining dj nobody will be the syndicate residents who share the same musical vision; kiat, darren dubwise & max lane. meanwhile on the controls of the night's cutting edge visuals are brandon tay & cherry chan.
for this special installment, syndicate is partnering with the most iconic name in street culture, obey. known for their camaraderie with the low end theory crew in los angeles, obey sustains its radical ideas by supporting syndicate's revolutionary movement here in singapore.
dj nobody (low end theory, la)
visuals by: brandon tay & cherry chan
date:
5th june 2010, saturday
20 upp circular road, the riverwalk
admission:
$15 (with 1 drink)
free entry with event flyer
nobody is one elvin esela who was been releasing records since 2000's la underground opus soulmates (ubiquity) which featured his moody production along with la mc's medusa, 2mex, freestyle fellowship, abstract rude and aceyalone. with time spent immersed at los angeles college radio station kxlu, nobody took his love for 90's indie rock and 60's psychedelia into a creative shift for his 2003 release pacific drift (ubiquity). this time the beats hinted at a more electronic edge and featured vocalists rather than mc's which include chris gunst (beachwood sparks), languis, paul larson and jimmy tamborello (dntel/postal service).
nobody and gunst's cover of the monkees' "porpoise song" sowed the seeds for their full length collaboration, nobody & the mystic chords of memory tree colored see (mush) in 2005. 2006's and everything else (alpha pup) saw a combination of both aesthetics into a more beat heavy approach that featured guest singers as well as mc's including mia doi todd, xololanxinco (omd) and prefuse 73. delving right into a full length collaboration with singer niki randa, nobody created his most cohesive work to date in blank blue: western water music vol. 2.
2010 sees nobody taking all the reigns himself with his latest release one for all without hesitation (alpha pup), which finds nobody in singer songwriter mode, gracing his own productions with his own autotuned laced vocals. nobody has also been part of the low end theory club that brings the freshest beats to the la scene every week. his dj sets are known to transport listeners to los angeles, ranging from unreleased bangers from la locals to rare 60's psychedelia from nobody's vault.
http://www.nbclosangeles.com/around-town/events/nbc_musicraw_los_angeles.html